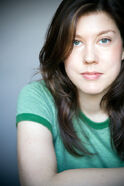 Maureen Johnson (born February 16, 1973, in Philadelphia, Pennsylvania) is an American author of young adult fiction. She has published ten young adult novels to date, including the Shades of London series and the Suite Scarlett series. Johnson has co-written or collaborated on the writing of The Bane Chronicles,' Zombies Vs. Unicorns, Vacations From Hell, and Let It Snow: Three Holiday Romances. She has also written a novella called The Boy in the Smoke, which is a prequel to complement her Shades of London series.
The Key to the Golden Firebird
The Bermudez Triangle
13 Little Blue Envelopes (Little Blue Envelope, #1)
Devilish
Girl At Sea
Suite Scarlett (Scarlett, #1)
Scarlett Fever (Scarlett, #2)
The Last Little Blue Envelope (Little Blue Envelope, #2)
The Name of the Star (Shades of London, #1)
The Madness Underneath (Shades of London, #2)
The Shadow Cabinet (Shades of London, #3)
Coming Soon
Edit
Untitled (Shades of London, #4)
Untitled (Scarlett, #3)
Untitled (Truly Devious #1)
External Links
Edit
Ad blocker interference detected!
Wikia is a free-to-use site that makes money from advertising. We have a modified experience for viewers using ad blockers

Wikia is not accessible if you've made further modifications. Remove the custom ad blocker rule(s) and the page will load as expected.